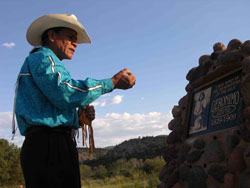 Harlyn Geronimo's fight to honor the memory of his elder
Legendary combatant, Geronimo (1829-1909) was one of the last Native American leaders to surrender to the United States army, after having held nearly half of it back over a period of 11 years. Despite the promises made to him, he would never again see his native land, and his body buried on the site of his detention in the military cemetery of Fort Sill in Oklahoma.
Today, Harlyn Geronimo, his great-grandson continues the fight to honor the memory of his elder and so that his bones, of which his skull and femurs are thought to have been illegally exhumed in 1918 by members of the Skull and Bones secret society (among which Prescott Bush, grandfather of President George. W. Bush), be returned to the Apache people and buried according to Chiricahua tradition on the site of Geronimo's birth, at the source of the Gila river.
Though the Skull and Bones society denies these facts, a letter by Winter Mead, member of the secret society (dated 7 June 1918) was discovered in the archives of the Yale University Library: (extract) "The skull of the worthy Geronimo the Terrible, exhumed from its tomb at Fort Sill by your club & the Knight Haffner, is now safe inside the Tomb* together with his well worn femurs[,] bit & saddle horn…"
* the Tomb: a tomb built by the Skull and Bones society in the city of New Haven, home of Yale University.
Sign the petition to support Harlyn Geronimo's fight:
Send an email to Yale president:
Read more:
Geronimo press conference:
On Feb. 17, 2009, Harlyn Geronimo held a press conference in Washington, D.C. at the National Press Club. Harlyn, along with 19 other blood descendants of the "defender of the Apache homeland", have today filed a lawsuit against the federal government. They seek to have Geronimo's body, now buried at Fort Sill, Oklahoma, returned to the ancient burial grounds of the Apaches. They are also pursuing a claim that in 1918, a group of Yale students, who belonged to a secret cult, the "Order of Skull and Bones", reportedly, invaded Geronimo's grave at Fort Sill, and "stole his skull".